News Archive
/ First anniversary for the Sheringham Shoal Offshore Wind Farm
First anniversary for the Sheringham Shoal Offshore Wind Farm
Friday 27th September 2013 marks the first anniversary of the official opening ceremony of the Sheringham Shoal Offshore Wind Farm. Exactly one year ago Norfolk's majestic Holkham Hall was the setting for the official opening of this 317 MW renewable energy power plant. Holkham Hall owners Viscount and Viscountess Coke welcomed the Crown Prince of Norway, dignitaries and around 100 guests to their stately home, located just outside Wells-next-the-Sea, where the wind farm has its operations and maintenance base.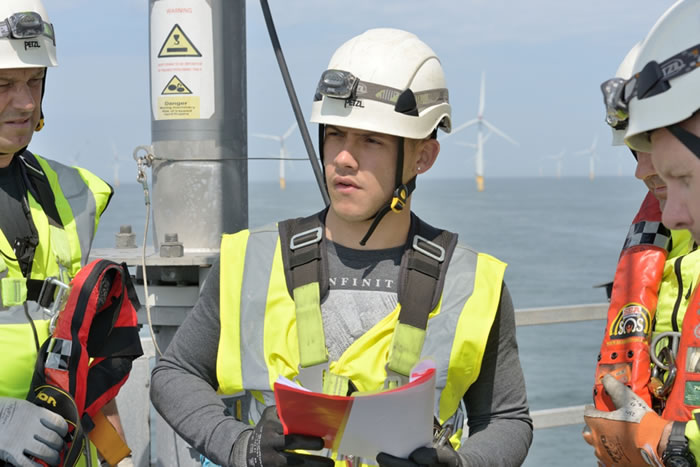 Technicians preparing for a day's work on one of the offshore substations at the Sheringham Shoal Offshore Wind Farm
Since the official opening, the Sheringham Shoal operations team has moved into their purpose built permanent offices and stores, Wind Farm Place, just three miles south of Wells-next-the-Sea. Wind Farm Place is home to around 60 permanent employees, and from here the operation and maintenance activities of the plant are carefully planned and coordinated. Technicians arrive here for their safety briefing before departing for the outer harbour in Wells, from where they transfer to the wind farm by purpose built support vessels operated by Norfolk based company Tidal Transit.
Since its opening, the focus from the local operations and maintenance team at Sheringham Shoal has been on maximising availability of the plant to enable highest possible production levels. This was evidenced on 17th September 2013, when the plant produced 7345.8 MWh from all 88 turbines.
Jason Halsey, Power Plant Manager, said, "It is gratifying to see all the hard work of our highly committed and skilled local team producing such good results. This is an emerging industry where we constantly aim to increase efficiencies to maximise production and reduce costs. With total electricity generation to date at 1.2 TWh, and an average plant availability above 93% in the past year, we are clearly demonstrating the significant advantages of harnessing the energy of the wind that freely blows around our coast."
For further information: Liz Hancock, HR & Communications Manager, Sheringham Shoal Offshore Wind Farm on mobile: +44 7557 264326 or email: L.Hancock@scira.co.uk
Sheringham Shoal is owned equally by the two Norwegian energy leaders Statkraft and Statoil through joint-venture company, Scira Offshore Energy Limited. Statkraft will assume full operatorship of the plant in January 2014.
Issue Date: 30-09-2013