Onshore work commences.
After nearly five years of planning, public consultation and stakeholder negotiation, work on the £1 billion Sheringham Shoal Offshore Wind Farm project has finally commenced.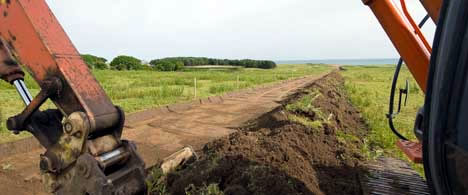 Work has started at Weybourne Hope on the onshore cable installation for the Sheringham
Shoal Offshore Wind Farm.
Drive down to the beach in the tiny North Norfolk village of Weybourne, or drive along the A149 coastal road between Kelling and Sheringham, and a team from onshore contractors Carillion plc will be seen at work. They are starting to create a fenced corridor along which the cables transporting the power generated by the wind farm will be buried.
Starting from the cliff top at Weybourne Hope, the onshore cable will run 22 kilometres across North Norfolk and Broadland to Salle where work will shortly start on building a new substation.
While Sheringham Shoal Offshore Wind Farm Project Director, Rune Rønvik, sees the start of onshore work as an important project milestone, he is also focussed on ensuring that disruption and inconvenience to those people living and working along the cable route is minimised.
"We have a licence to operate for 50 years so will be part of the Norfolk community for a very long time. I am keen to ensure that we are 'good neighbours' from the outset and will work closely with our onshore contractor to ensure that all the communities along the cable route are aware of when work will take place, how long it will last and what measures will be taken to mitigate disruption," he said.
The Sheringham Shoal Offshore Wind Farm is being developed by Scira Offshore Energy Limited which is jointly owned by Statoil, a world leading operator of offshore oil and gas fields, and Statkraft, a utility and Europe's largest producer of renewable energy. Statoil will be the operator for the project during the development phase.
Contact:
For further information please contact: Sheringham Shoal Offshore Wind Farm PR and Communication Manager, Sue Vincent on M: 07768 508742 or E-mail: info@scira.co.uk