WWII bomb found on Sheringham Shoal site
A 250lb air-dropped German WWII bomb has been safely detonated on the Sheringham Shoal Offshore Wind Farm site having been found during an unexploded ordnances (UXO) survey.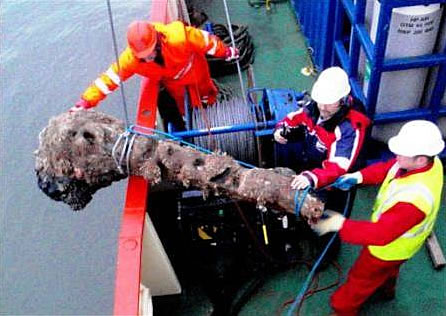 A canon and a stock anchor were found during the UXO survey and both have been reported to authority body, Receiver of Wreck. They will be stored in fresh water for up to one year to allow for inspection and further treatment if applicable.
Wind farm developer, Scira Offshore Energy Limited commissioned the survey as part of its preconstruction preparations and the bomb was found at the site of one of its foundation locations in the north-west of the site.
The key feature that identified the bomb was a copper ring on its front end.
The survey for identifying magnetic targets was carried out by EMU Ltd. using the vessel "RV Discovery", which soft towed four magnetometers and one side scan sonar approximately 3-5m above the seabed.
The survey took almost four months, which was longer than anticipated, due to the use of a far higher technical specification than has been used for pervious surveys of this type. It covered around 44 square kilometres, including both the wind farm site and cable corridor.
After the initial magnetometer survey was complete, all identified objects that could have interfered with the cable routing or foundation locations were inspected to verify their nature, and particularly to determine if they were unexploded ordnances.
This work was carried out by Gardline Environmental Ltd. using vessel "OMS Pollux" and took around three months to complete. A total of 52 targets were investigated by divers and using a remote operated vehicle (ROV). While most of the targets were debris or geological concentrations, several anchors and an old canon were found, as well as the unexploded bomb.
The bomb was found by divers from diving specialists Red7Marine and verified and detonated with explosives by disposal experts MACC International, earlier this month.
Project Director Rune Rønvik said safety is a priority during construction and the discovery of the bomb full justified the use of such a technically precise survey, despite the additional time it required.
The Sheringham Shoal Offshore Wind Farm is owned equally by Statoil and Statkraft through the joint venture company Scira Offshore Energy Limited. Statoil is the operator for the project during the development phase. Scira will be the operator of the wind farm.
For more information: please contact Sheringham Shoal Offshore Wind Farm PR & Communications Manager, Sue Vincent on mobile: 07768508742 or email: info@scira.co.uk