News Archive
/New vessels due to arrive at Sheringham Shoal.
New vessels due to arrive at Sheringham Shoal
The state of the art crane vessel the Oleg Strashnov is due to arrive back at the Sheringham Shoal site early on Sunday morning, after a trip to Vlissingen in Holland to pick up further monopiles, and is scheduled to resume foundation installations next week. Currently persons on board number 162, although this number will fluctuate according to activity.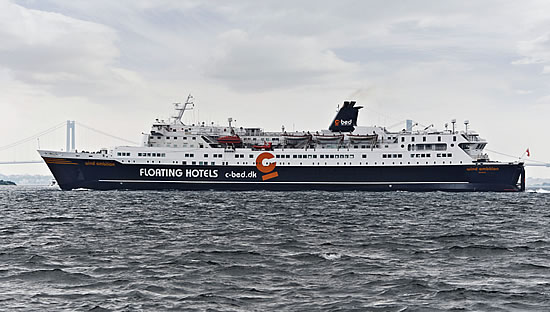 Hotel vessel "Wind Ambition" can accommodate 137 guests.
A new vessel operated by Visser and Smit, the Smit Constructor, is also due to arrive tomorrow during the evening. The Constructor will be carrying out secondary work in support of the windfarm construction, installing X-Beams, Bellmouths, J-tubes and PE pipes which provide the infrastructure required for the connections between the turbines and the substations for the transfer of electricity generated. The Constructor is also equipped for the necessary diving work involved in these operations. Currently persons on board number 61, although again this will fluctuate according to activity.
Next week the commissioning work on the two offshore substations will begin, and typically there will be around 20 commissioning engineers on each substation during the hook up and commissioning phase (the maximum number possible per substation is 24 people).
To accommodate the commissioning team during this phase a floating hotel, or floatel, called the Wind Ambition will arrive next week. 153 metres long and 20 metres wide, with a crew of 39 on board, Wind Ambition has 137 cabins. During the remainder of the construction period the Flotel will accommodate around 80 people at any one time, as the windfarm workers use her as their base during their offshore rotas. Until the arrival of the Wind Ambition approximately 35 people per day have been transported to and from the windfarm via Wells Outer Harbour to carry out jobs offshore, so the floatel will provide accommodation right next to the site, minimising traffic in and out of Wells Harbour.
In support of the above vessels and the construction activity, various personnel transfer boats like the high speed craft Vidar and the guard vessel Observer will operate in the field. The larger vessels like the Oleg Strashnov will also be supported by anchor handlers like the tugs the Boulder and the Typhoon.
All in all as the windfarm construction activity develops there will typically be around 400 people working offshore next week.
The Sheringham Shoal Offshore Wind Farm is owned equally by Statoil and Statkraft through the joint venture company Scira Offshore Energy Limited. Statoil is the operator for the project during the development phase. Scira will operate the wind farm once completed.
For further information contact: Sheringham Shoal Offshore Wind Farm Communications Manager, Elizabeth Hancock on mobile 07557 264326 or email elhanc@statoil.com
Issue Date: 27-05-2011