Duke of York visits Sheringham Shoal base
The Duke of York visited Scira's operations base in Wells-next-the-Sea yesterday and met with the team there to learn more about the Sheringham Shoal project and the rapidly developing offshore renewables industry in the UK.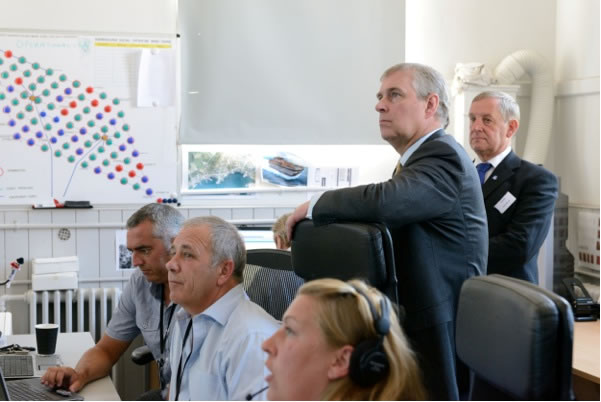 Mark Williamson, Mike Walker and Rebecca Callister with The Duke of York and Gardline's John Morse in the Scira Marine Centre.
On arrival The Duke of York was welcomed by Einar Strømsvåg, Scira General Manager and briefed about the wind farm and other large developments planned for the southern North Sea. He also met with representatives from the wider community, including local landowners, those involved in education and training, the fishing industry, owners of local businesses, members of the recently formed North Norfolk Renewables Group, the Harbour Commissioners, as well as Town and District councillors and representatives from leading offshore wind energy companies.
He was also given a tour of the state-of-the-art Scira Marine Centre, where a team monitors and coordinates the marine operations and work releases of the Sheringham Shoal project using the latest technology to keep track of personnel and vessel movements in and to/from the field.
The visit was co-hosted by Gardline, a leading marine sciences contractor involved in survey projects during the construction of the offshore wind farm, which is now nearing completion. Included in the visit, the Royal Party went to the new outer harbour in Wells-next-the-Sea and inspected one of Gardline's latest wind farm vessels, made by Alicat Workboats, The vessels transport workers, surveyors and visitors to and from the wind farm site.
Issue Date: 25-07-2012