News Archive
/ Guest entertainers help Scira thank Wells-next-the-Sea
Guest entertainers help Scira thank Wells-next-the-Sea
The opening day of this year's Wells-next-the-Sea Carnival (Saturday, July 28) will feature guest entertainers and extra activities as Scira Offshore Energy will use the occasion to thank local people for their support throughout the construction of the Sheringham Shoal project.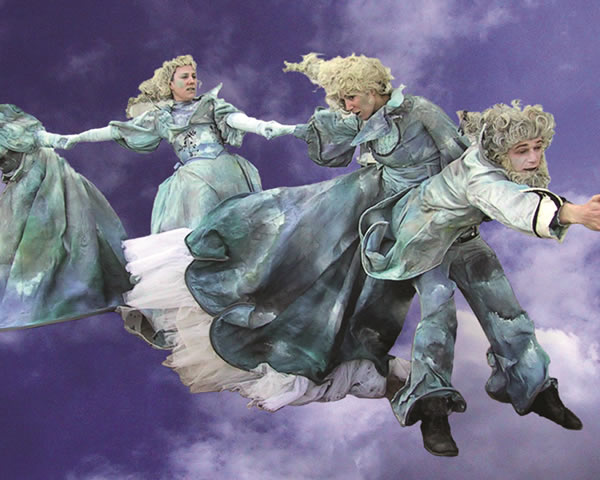 The Wind People will blow in for the opening day of this year's Wells-next-the-Sea Carnival.
Guest performers from Cirque Bijou, including a polar bear, giant birds and windy people will appear from 1230pm, adding to the excitement of the opening day of the Carnival this Saturday.
Scira General Manager Einar Strømsvåg said that after more than six years of planning, development and construction, the 317MW offshore wind farm is almost complete but it would not have been achievable without the cooperation and involvement of the people and businesses of Wells-next-the-Sea.
"In recognition of the support we have received, we wanted to show our appreciation by helping to make the first day of the annual event particularly memorable," Mr Strømsvåg said.
"In close liaison with the Carnival committee, we have supported a number of regular activities, including the popular Raft Race and the provision of a stage for the week, and also have been able to bring in fantastic guest performers to entertain visitors. Through this support, Scira would like to say a huge thank you to everyone who lives, works or visits Wells-next-the-Sea."
It will also be a celebration of a year since the first time electricity was produced at the wind farm, which will operate out of the outer harbour for at least the next 50 years.
"The whole Scira team looks forward to a continued cooperation with the community it is now proud to be part of," he said.
A formal opening will be held in the local area in September when the wind farm is in full operation.
Issue Date: 23-07-2012