News Archive
/ North Norfolk MP shows support for wind energy skills partnership
North Norfolk MP shows support for wind energy skills partnership
North Norfolk MP and Business Minister Norman Lamb visited Alderman Peel High School in Wells-next-the-Sea today to show support for a new partnership between the school and Scira Offshore Energy, operator of the Sheringham Shoal Offshore Wind Farm, which focuses on wind energy industry career opportunities.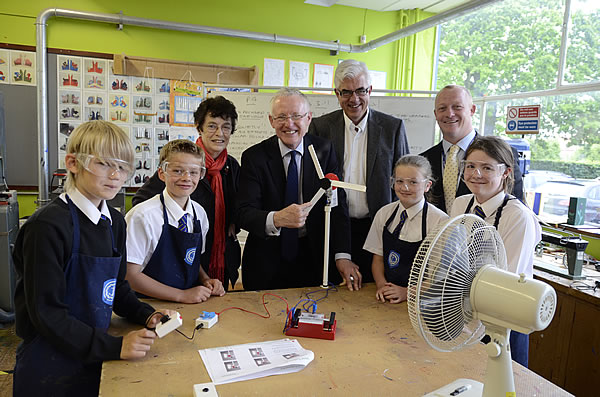 Students from Alderman Peel High School Year 7 give an enthusiastic demonstration of their model wind turbines to Norman Lamb MP, Cllr Marie Strong, Scira's Einar Strømsvâg, and their Headmaster Alastair Ogle.
Through a range of practical initiatives, the partnership will teach students about employment opportunities in the growing offshore wind sector, and help them find pathways to those opportunities. For example, it will include the introduction of lessons, particularly in Science, Technology, Engineering, Maths (STEM) that use real life examples from Sheringham Shoal and interactions with people who carry out the work there.
The wind farm operational base is in Wells-next-the-Sea and Mr Lamb, a long-term supporter of renewable energy, said it was exciting to see both Scira and Alderman Peel working together to encourage local young people to look at entering an industry likely to provide so many opportunities to the area in future.
Norman Lamb commented, "It is great to see Alderman Peel High School and Scira working together in this way. Renewable energy can bring jobs to North Norfolk and we need to ensure that our young people are equipped with the skills and awareness that will allow them to benefit in future."
Alderman Peel headmaster, Alastair Ogle said the partnership would enhance learning opportunities for students by enabling them to develop projects with input from people working in a local, yet global, industry, and learn first hand about models of effective partnership. One such project will involve two Scira engineers working with year 7s on their annual STEM challenge and facilitating a wind energy practical exercise.
"It is fundamentally about ensuring our students develop the abilities and skills that wind industry employers like Scira actually want while providing them with the educational opportunities, advice, guidance and support to progress further into this expanding industry," he said
Scira General Manager, Einar Strømsvåg said the Alderman Peel partnership is a pilot of a schools engagement programme, which in turn is part of the organisation's broader long term education strategy aimed at supporting the development of skills locally, in partnership with other groups and education facilities in East Anglia.
"It is a natural fit for us to start with Alderman Peel as it is such a focal point in the town where we will have our long term home," he said.
Dr Marie Strong, County Councillor Wells Division, also lent her support to the partnership, saying, "The project has important potential for the students of Alderman Peel High School. There are likely to be a number of outcomes, one of which I believe will be young people able to visual a whole range of careers. Hopefully, with further education, some of these young people will find employment here in Wells."
Sheringham Shoal Offshore Wind Farm is nearing its final stage of construction with completion scheduled for late summer 2012. The project is owned equally by Statoil and Statkraft through joint venture company Scira with Statoil the project manager during construction.
For further information: Liz Hancock, Communications Manager, Sheringham Shoal Offshore Wind Farm on mobile: +44 7557 264326 or email: l.hancock@scira.co.uk.
Issue Date: 19-06-2012