News Archive
/ Trio of vessels to install Sheringham Shoal export cable
Trio of vessels to install Sheringham Shoal export cable
A trio of large vessels will be visible off the north Norfolk coast over the coming weeks as work starts on the preparation of the route and installation of the export cable that will carry the electricity from the Sheringham Shoal Wind Farm to shore.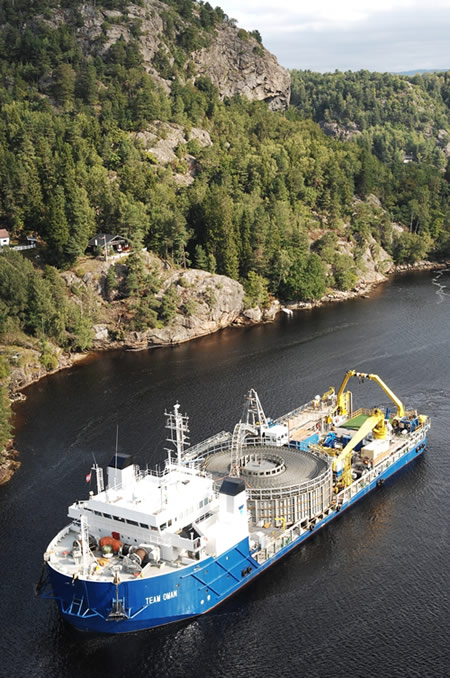 "Team Oman" loaded up with the cables bound for the Sheringham Shoal project.
First to arrive will be the 55m "Atlantic Guardian" which will clear the cable route of debris and any obstacles in preparation for the two export cables to be installed. This vessel is scheduled to begin work next week and it is anticipated the work will take around seven days.
Project Director Rune Rønvik says it is important to ensure the cable route is clear to minimise any possible interruption to the installation of the two cables.
The cables, which were manufactured by Nexans in Norway, comprise power and optical cables bundled together into one unit. The composition of the cables means their installation will be a continuous process taking around four weeks to complete, depending on the weather.
The two cables, 23 kilometres and 21 kilometres in length, weigh 77 kilograms per metre so together their total weight is 3,388 tonnes.
Once the route is cleared, the 86m "Team Oman", a dynamic positioning vessel with a 3,400 tonne lift capacity, will lay the cable, starting from shore and working towards the site. This vessel arrived in the UK with the cables last week for some final modifications prior to the start of work.
The third vessel working on the cable installation will be the 79m diving support vessel "VOS Sympathy" which will use the trencher TMO3 from marine engineering firm, TravOcean. It will trench and place the cable in a concurrent operation.
"Team Oman" and "VOS Sympathy" will work along the cable route for around a month, depending on the weather. Contractor Visser & Smith Marine Contracting will manage the whole cable operation.
Meanwhile, work on the wind farm site continues with the "Svanen" installing the wind farm foundations, each comprising a tubular steel monopile topped with a bright-yellow transition piece. Currently 16 of the 90 foundations have been installed.
The Sheringham Shoal Offshore Wind Farm is owned equally by Statoil and Statkraft through the joint venture company Scira Offshore Energy Limited. Statoil is the operator for the project during the development phase. Scira will be the operator of the wind farm.
For more information: please contact Sheringham Shoal Wind Farm PR & Communications Manager, Sue Vincent on mobile: 07768508742 or email: info@scira.co.uk.