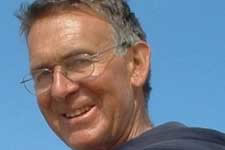 Charlie Ward
News Archive
/ Charlie Ward takes wind farm project role at Wells 17.June 2009
Charlie Ward takes wind farm project role at Wells 17.June 2009
Charlie Ward has recently been appointed as Project Manager for the Channel Deepening and Outer Jetty Project at Wells Harbour as part of the Sheringham Shoal Offshore Wind Farm development.
Wells Harbour has been nominated as the preferred operational base for the wind farm. However as it is subject to tidal restrictions, this project will improve access for service boats, and all harbour users, while the new jetty will provide berthing facilities for commercial vessels.
Charlie will work closely with the Wells Harbour Commissioners and Harbour Master Robert Smith, and is responsible for the procurement of all equipment required for the channel deepening and new jetty as well as overseeing the work through to completion around the end March of 2010.
Charlie has considerable experience of the North Norfolk coast and is best known for his local boat building company, which he has been operating for more than 40 years. He was also a Harbour Commissioner for eight years, only recently standing down to take up his new role.
The Sheringham Shoal Offshore Wind Farm is being developed by Scira Offshore Energy Limited, which is jointly owned by Statoil and Statkraft. Statoil will be the operator for the project during the development phase.
For further information please contact: Sheringham Shoal Offshore Wind Farm PR & Communications Manager, Sue Vincent on mobile: 07768508742 or email: info@scira.co.uk