Wells Harbour construction complete
Construction work has finished on a new outer harbour in Wells which will be the operation and maintenance base for Sheringham Shoal.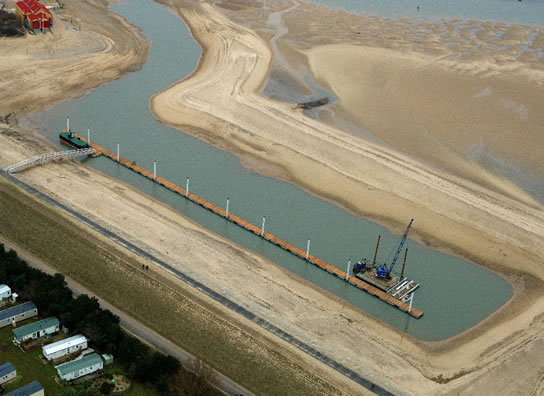 The steelwork and piling have been coloured to blend with the background and the banks, made from dredged sand, will have vegetation and look more natural over time
The jetty and 150m of pontoons have been built in a specially-dredged area known as Buxton's Bight, about a mile away from the main harbour.
The inventive project was designed to improve tidal access times to Wells and was the key factor in the decision to base operations in the town.
After years of planning and four months of dredging, the structural work was completed this week, while mains electricity and water services will be connected by the end of March.
The first vessels, which will transport construction workers and wind farm service technicians to the wind farm site, are due to arrive at the new pontoons in April.
Harbour authorities hope this development will welcome a prosperous future for North Norfolk.