News Archive
/ Wind farm base tour for new Business Minister Norman Lamb
Wind farm base tour for new Business Minister Norman Lamb
At the end of his first week in ministerial office, North Norfolk MP Norman Lamb toured the Wells-next-the-Sea base of Scira Offshore Energy to find out about the construction of the Sheringham Shoal Offshore Wind Farm and learn more about the opportunities that it, and other offshore wind farms, will bring the area.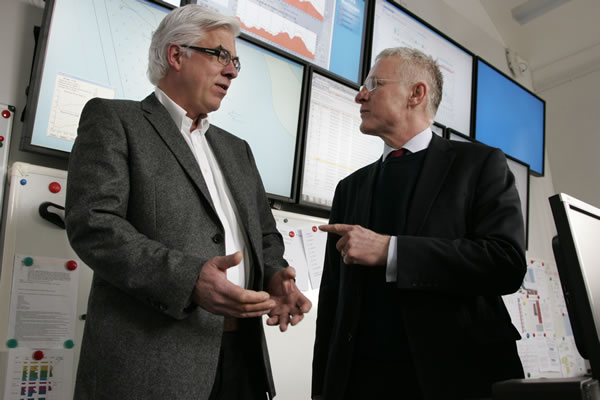 Scira Offshore Energy General Manager Einar Strømsvåg (left) with Norman Lamb in the wind farm's marine coordination centre.
Liberal Democrat MP Norman Lamb particularly focused on job opportunities and the potential for supply chain development in the area.
Scira Offshore Energy General Manager, Einar Strømsvåg said that the wind farm has already created direct employment for approximately 50 local people, as well as business opportunities for at least 120 North Norfolk businesses, ranging from accommodation and transport to catering and security.
"But Sheringham Shoal is really just the beginning for the offshore wind industry in Norfolk," he added. "Potentially there are more than 500 jobs if Lowestoft and Great Yarmouth are fully developed as construction bases and if the developers of other wind farms follow our lead and use Wells-next-the-Sea as their operations and maintenance base."
Local MP Norman Lamb said that Sheringham Shoal is a really impressive project that will continue to bring jobs and business opportunities to the local area.
"There is the potential for this industry to provide a real boost to the region's economy while delivering the clean energy we need for the future," he commented afterwards. "With the growth of offshore wind energy off the Norfolk coast, local youngsters can see new job opportunities ahead and we need to ensure that our schools and colleges are geared up so that we can take advantage of this opportunity."
Sheringham Shoal Offshore Wind Farm now has 28 of its 88 turbines in place and is scheduled for completion in late summer 2012.
The project is owned equally by Statoil and Statkraft through joint venture company Scira Offshore Energy Limited. Statoil is the project manager during construction, while Scira will be responsible for the long-term operations and maintenance.
For further information: Liz Hancock, Communications Manager, Sheringham Shoal Offshore Wind Farm on mobile: +44 7557 264326 or email: l.hancock@scira.co.uk.
Issue Date: 15-02-2012