Wesley Woods of local earthworks contractor Groundworks UK(Norfolk) Ltd installing a specially-designed newt fence around the substation site.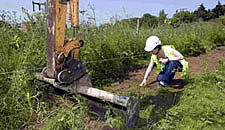 Tracey Simpson of Norwich based Ecology Consultancy Ltd inspecting the substation site for newts prior to construction work.
News Archive
/ Newt safety assured as substation work begins
Newt safety assured as substation work begins.
Having received a Newt Licence from Natural England - the final hurdle to start of construction - work has now begun on a multi-million pound substation at Salle, near Cawston, as part of the Sheringham Shoal Offshore Wind Farm development.
The power generated by the wind farm will be transported to shore at Weybourne, then some 22km from there via underground cables to the new substation, located 16km north west of Norwich city centre. It will then be transported via existing cables to the National Grid.
Before work could start on the preparation of the substation site, the developers had to safeguard some possible site inhabitants – Great Crested Newts.
The Greater Crested Newt is the UK's largest newt species but due to diminishing numbers it now enjoys some legal protection against harm and destruction of its natural habitat through the Wildlife and Countryside Act 1981 and the Habitat Regulations Act 1984
.
Upon receipt of the Newt Licence, AREVA, the contractor building the substation, first had to check for the presence of newts and then erect specially-designed newt fencing. This fencing aims to create a safe corridor for the newts' natural activity whilst keeping them out of the construction area.
The substation will take approximately 12 months to complete with commissioning scheduled for June 2010.
The 317MW Sheringham Shoal Offshore Wind Farm will be completed towards the end of 2011. Once built it will have an annual electricity production of around 1.1TWh, or enough energy to power almost 220,000 British households.
The Sheringham Shoal Offshore Wind Farm is owned equally by Statoil and Statkraft through the joint venture company Scira Offshore Energy Limited. Statoil is the operator for the project during the development phase.
For more information: please contact Sheringham Shoal Offshore Wind Farm PR & Communications Manager, Sue Vincent on mobile: 07768508742 or email: info@scira.co.uk