News Archive
/ Scira supporting Greenbuild 2010 this weekend
Scira supporting Greenbuild 2010 this weekend
This weekend's North Norfolk District Council's Greenbuild event will once again be supported by the Sheringham Shoal Offshore Wind Farm, which will sponsor the event for the second time.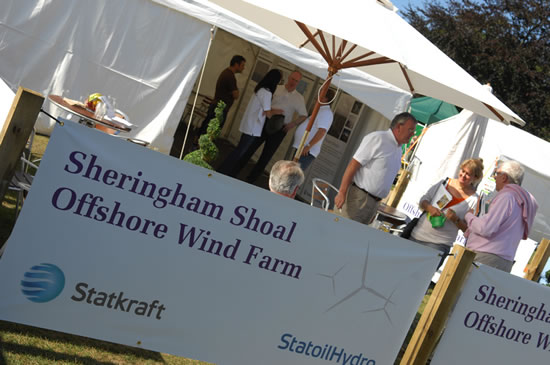 The Scira stand at last year's Greenbuild.
Being held on Saturday and Sunday (11 and 12 September), Greenbuild 2010 is open to the general public from 1030 to 1630 in the parkland at Felbrigg Hall, Felbrigg Near Cromer, North Norfolk NR11 8PR.
As well as sponsoring the sustainability event, Sheringham Shoal will participate with a marquee, enabling local people to find out more about the construction timetable, ongoing operation and maintenance activities, local benefits and potential opportunities. There will be a kids competition, informational giveaways, the latest progress film and project team members on hand to answer queries.
Last year the event attracted more than 7,000 visitors and the Scira stand was very busy which gave the project team a good opportunity to engage with the community. This year organisers hope for at least a similar, if not higher, attendance.
Sheringham Shoal Project Director, Rune Rønvik said Greenbuild was an ideal opportunity for people interested in sustainability, particularly in relation to wind energy, to find out more about the project.
For more information about Greenbuild visit: http://www.northnorfolk.org/greenbuild/.