New outer harbour at Wells taking shape
The new outer harbour which will extend tidal access times into Wells-next-the-Sea is taking shape as dredging work enters its second phase and the jetty construction gets underway.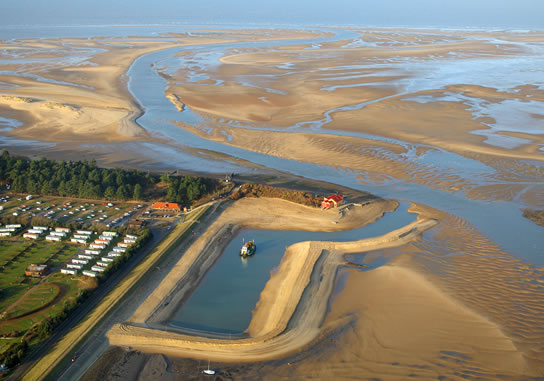 The dredging work at Wells-next-the-Sea is moving into its second phase, with work now underway to deepen the channel to the North Sea.
The town's Harbour Commissioners began planning the work in cooperation with Scira some three years ago, with the onsite work finally beginning in October last year, in preparation for the
construction of the offshore wind farm, which will use the port as its operational base.
A rectangular "pool" has been dredged at Buxton's Bight - near the local lifeboat station - which will house the new jetty and 14 pontoons due to be installed this month. A marine piling rig now in the port will soon be transported to the site where it will set the foundations for the facilities.
The dredging work at Buxton's Bight was completed in January and the "Kari Hege" dredging vessel - an excavator mounted on a 200-tonne barge - has moved on to the main channel to create a low-tide depth of one metre, enabling vessels to move from the new harbour to the North Sea.
The improved channel and new pontoons will allow longer tidal access for wind farm service vessels to transport personnel to and from the Sheringham Shoal site, both during construction and in the longer term operation and maintenance phase.
Wells Harbour Master Robert Smith said that, if there is sufficient mooring space, the new facility could also benefit other commercial vessel users or visiting yachts.
"All in all it is a very exciting time for the harbour, for Wells and for the whole of North Norfolk," he said.
The new outer harbour is due to be operational by the end of March.