News Archive
/ Sheringham Shoal Visitor Centre opens in The Mo
Sheringham Shoal Visitor Centre opens in The Mo
While the construction of the Sheringham Shoal Offshore Wind Farm continues off the coast of the region, it is timely that the Sheringham Shoal Visitor Centre will open today. The visitor and wind energy education centre associated with this exciting renewable energy project is opening in The Mo, located on nearby Sheringham seafront.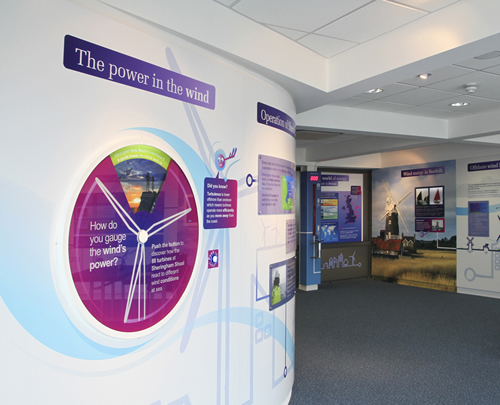 Inside The Sheringham Shoal Visitor Centre.
The Sheringham Shoal Visitor Centre is located on the first floor of the Sheringham Museum in The Mo, and is ready to receive its first visitors on 1st February 2011.
The graphics and interactive displays featured at the Visitor Centre are designed to describe the historic importance of wind to the North Norfolk community. In addition, visitors can learn about the processes involved in the development, construction and operation of an offshore wind farm. When completed in 2012, the Sheringham Shoal development will generate enough electricity each year to power the equivalent of 220,000 domestic homes.
Kari Hege Mørk, Stakeholder Manager for the Sheringham Shoal Offshore Wind Farm project, has been greatly involved in the design and planning of the visitor centre.
"We worked hard to achieve a balance in the design and content of the Visitor Centre so that it will not only be fun and interactive, but also educational, including being of assistance to schools where climate change and renewable energy feature in the curriculum and to students researching wind energy. The Centre will also be a place where the people can learn more about this historic project, which their community is a central part of," says Mørk.
The Sheringham Shoal Wind Farm Visitor Centre will be open for visitors Tuesday through Sunday from 1 February - 31 October 2011. Opening hours are Tuesday – Saturday, 10:00am – 4:30pm, Sunday, 12.00 noon – 4:00pm. Closed Mondays. There is no charge for entry to the Visitor Centre, although if the visit is to be combined with a visit to the Sheringham Museum, normal museum charges will apply
For more information: please contact Nigel Tompkins, New Ideas for Business. T:01263 822427
M: 07860 206565 or email: nigel@ni4b.co.uk.